CeNak PhD Candidate Researches Frogs in the Jungle of Sumatra
13 March 2018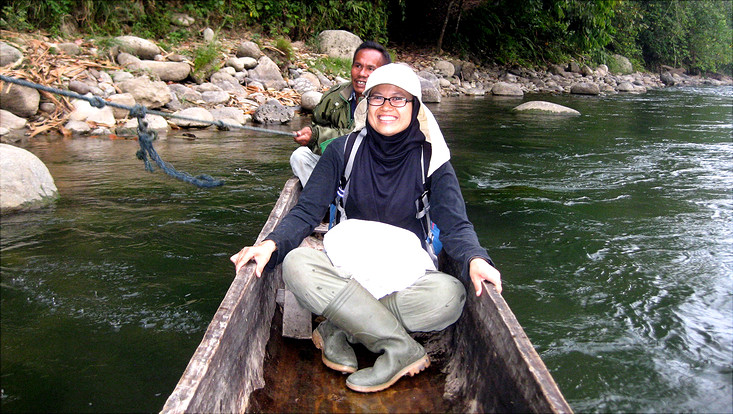 Photo: Ganjar Cahyadi
Umilaela Arifin during her research journey in Indonesia, crossing the Alas River in Sumatra. The cascade frog Sumaterana crassiovis Umilaela Arifin is doing research on only lives in Sumatra.
Darkness, the humming of the jungle, cracking branches and then a hiss: the tiger sneaks right around the tent. CeNak PhD student Umilaela Arifin actually came to Sumatra to research frogs in her homeland, a megadiverse country covering more than 17,000 islands called Indonesia. She had not thought of encounters with big cats, elephant, and bear, or even getting lost in the remote forest without food. The expedition becomes an adventure with good outcome in many ways. Now, the merit scholarship holder of the University of Hamburg has presented the first result, describing a new genus and two new species of cascade frogs from Sumatra as part of her dissertation topic on the evolution of the Sumatran cascade frogs. She expected to finish her dissertation in the fall.
Umilaela Arifin discovered her love for frogs in 2004, when she joined the international research team from the USA, Canada, and Indonesia to survey herpetofauna diversity in Sulawesi, during her undergraduate at the Bandung Institute of Technology, Indonesia. Her aversion to this slippery creature gradually turned more and more into fascination ever since. She conducted a morphometric study of some Sulawesi frogs for her Bachelor and studied the molecular phylogeny of Bornean endemic frogs for her Master thesis. In 2009, she met Prof. Dr. Alexander Haas, the CeNak frog expert, at a conference in Malaysia, with whom she later laid the foundation for her scientific project and developed the idea of a doctorate in Hamburg. A DAAD scholarship and DFG grant finally made it possible to bring her to Hamburg in 2013 and funded her doctoral research project.
The unique biological aspects of cascade frogs Sumaterana crassiovis has brought Umilaela Arifin interest to dig more into these animals. The tadpoles of these frogs possess a peculiar cup-like structure on their belly known as "belly sucker" (gastromyzophory). This "suction cup" helps these tadpoles to exploit a very special niche - fast-flowing streams – where the water would otherwise be too turbulent and rapid to hang around. This is a rare adaptation that is only found in certain toads in the Americas and frogs in Asia. In fact, to date, only one species (Huia sumatrana) in Sumatra has been known to possess such larvae. Curious to search for another species, which also possess gastromyzophorous larva, has brought Umilaela Arifin and team to explore the Sumatran jungle to answer the question. Using a powerful combination of molecular and morphological data to take a closer look at the peculiar tadpoles and their adult forms from the expedition, they could assign this tadpole to a previously known species, for which they also proposed a new position in the tree of life. Furthermore, they realized that they had not only stumbled upon a rare amphibian trait, but had also discovered two new species of frogs in the process and had to create a new genus to accommodate them. The new genus called Sumaterana after Sumatra, to reflect the fact that these new species are endemic to Sumatra's rainforests and, in a sense, are emblematic of the exceptional diversity of animals and plants on the island.  
While focusing on writing up several other papers and finishing her dissertation, Umilaela Arifin said she wants to continue exploring and understanding the biodiversity of Indonesia and Southeast Asia after she completed her degree: "Now, here in Hamburg and through expeditions to Indonesia, I understand more and more the precedence of nature in my home. Indonesian nature and biodiversity is fascinating! The best laboratory in the world! Unfortunately, we know very little about it. I want to keep working on Indonesian and Southeast Asian biodiversity to bring more knowledge together."
The CeNak has maintained several collaborations with biodiversity researchers in Indonesia and intends to strengthen its ties with Indonesian biodiversity research institutions.
Link to study
Link to video clip: Umilaela Arifin during her research journey in Indonesia
---