Treasure of the month: Humboldt's nightbird
9 September 2019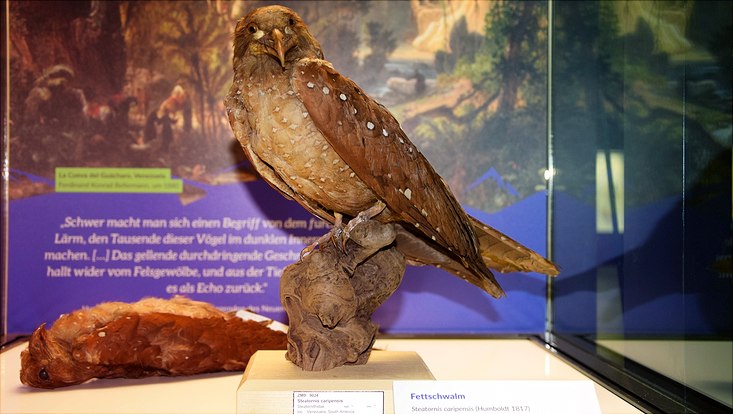 Photo: UHH/CeNak, Stau
The oilbirds from our ornithological collection in the Humboldt exhibition
You can find our September treasure twice at the Zoological Museum! Steatornis caripensis, locally called guácharo, is known as the oilbird in English. As of May, one of the two oilbird specimens features in the temporary exhibition on Alexander von Humboldt at the Zoological Museum. The other one remains in our ornithological collection.
How the treasure came to us
One of the oilbirds found its way to our museum via the Federal Research Center for Forest Management in Reinbek in 1957, the other came from Colombia. The Munchique National Natural Park sold it to the Zoological Museum in Hamburg along with 100 other animals in 1971 to replenish the ornithological collection, which had suffered devastating losses during the Second World War.
The Venezuelan oilbird
During one of his expeditions to modern-day Venezuela, locals led Alexander von Humboldt into a dark cave and showed him a bird that had lived among them for a long time: the oilbird. Humboldt first described and classified the new species in 1817. Oilbirds owe their rather unflattering name to their preferred feed, the fruit of the oil palm, and the fact that their chicks used to be captured and boiled to make oil. The name of their genus, Steatornis, translates to "fat bird" in reference to the chubby appearance of the chicks. 
Echolocation
Screams, purrs, and clicks: rather than relying on visual input alone, oilbirds find their bearings by producing clicks that then send back an echo, similar to the echolocation system bats use. Unlike bat noises, the clicks of oilbirds are audible to humans. The birds primarily employ this technique in the dark caves in which they live and breed. It has given them the reputation of being the world's loudest birds. After one of his expeditions, Humboldt reported: "It is hard to imagine the dreadful noise that thousands of these birds can make inside a dark cave."
The South American cave chicken
There is no difference in appearance between male and female oilbirds: both have reddish-brown feathers with white spots, allowing them to blend into their environment. At a height of 40 to 50 centimeters, the birds are close in size to chickens, but they weigh much less. During the nights, oilbirds actively gather fruit; by day, they hide away in the dark caves of South America. They are the only nocturnal, flying, fruit-eating birds that also have a well-developed sense of smell. Oilbirds nest on cliffs and in recesses inside dark caves. Although some parts of their natural habitat are already protected, the destruction of the rain forests and the impact of climate change may soon pose a threat to this species. 
Further information
Temporary exhibition on Alexander von Humboldt (until the end of September)
Department of Ornithology
---