Wattboden exhibition opening: Broker between the worlds
12 December 2019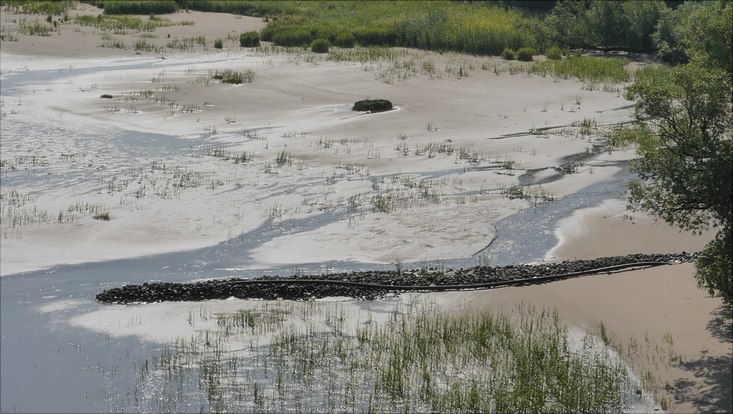 Photo: UHH/CeNak, Möckel
Big words for what seems no more than a drab expanse. Speakers at the opening of the special exhibition Watt erleben—Wattboden verstehen at the Hamburg Zoological Museum (12 December  2019–31 May 2020) described the Wattboden, the soil of tidal flats, as a "broker between the worlds" and "young, dynamic, one could say in puberty."
In cooperation with the Ministry of Environment and Energy (BUE) and the Institute of Soil Sciences at Universität Hamburg, CeNak has designed an exhibition that vividly shows how much life teems in the tidal flats soil, the important ecological function that it plays, and how complex its form and colors are. All in all, it is a worthy "2020 Soil of the Year."
The exhibition's photos take us to conservation areas otherwise off-limits, and show us tidal flats in the middle of Hamburg that we see every day but hardly notice. In the walk-through exhibit of an interstitial biotope, visitors can easily see miniature animals go about their lives. And the flounder, a typical resident of the tidal flats, cannot simply slip away at the Zoological Museum, however true-to-life our replica may be.
Despite claims that "Everybody knows the tidal flats soil"—overheard at the opening of the Wadden Sea UNESCO World Heritage Site—we in fact know very little about these—sometimes wet, sometimes dry, always dynamic—regions. Prof. Dr. Lars Kutzbach from the Institute of Soil Sciences described this part of the earth's surface as a world unto itself: as you can see in the exhibition, it is interfused with rock, water, air, and life forms, and it influences the global climate system in several ways.
Prof. Dr. Andreas Schmidt-Rhaesa, CeNak curator and head of the Department of Invertebrates, described just how extreme and how diverse this tidal biotope is. The worms that process the sand and provide oxygen to the deeper layers are tiny and inconspicuous. He also explained that the prized Sylter Royal oysters are actually Pacific oysters, introduced into the Wadden Sea last century after European oysters died out.

On 4 December, the German Environment Agency's Commission for Soil Conservation voted the tidal flats the "2020 Soil of the Year." Minister of the Environment Jens Kerstan serves as patron.
Curators (from left to right): Andreas Schmidt-Rhaesa (CeNak), Elisabeth Oechtering (BUE), Gisela Gröger (BUE), Lioba Thaut (CeNak), Lars Kutzbach (Institute of Soil Sciences)
Further information about the exhibition and the program of activities, such as walking tours through the North Sea tidal flats, bicycle tours to the Hamburg tidal river flats, and our family program "Watt geht ab?"
---