StadtNatur 2020 is a weekend full of activities focusing on nature in Hamburg. This years motto is Naturally Hamburg!
15 January 2020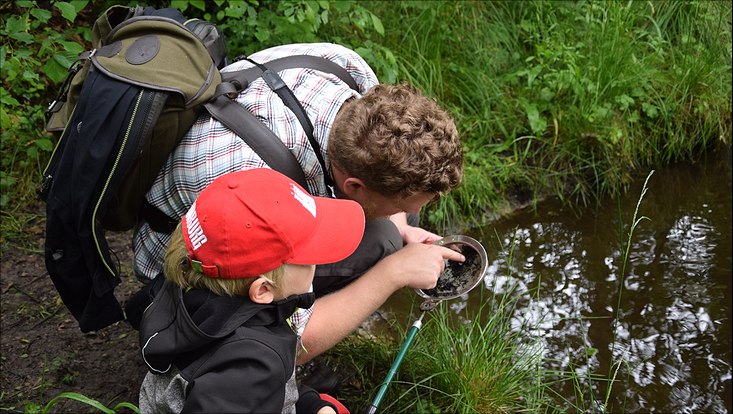 Photo: UHH/CeNak, Gerisch
The motto for the upcoming StadtNatur weekend of activities is "Naturally Hamburg!"
On their search for cuckoo bees, the common asparagus beetle, and quaking grass, plant and animal experts will be exploring Hamburg's green nooks and crannies during the annual StadtNatur weekend. CeNak, now in its fourth year of cooperation in the StadtNatur Hamburg and GEO-Tag der Natur events, invites you to take part in any of the several excursions planned for 13 and 14 June 2020.
The StadtNatur weekend is an opportunity to experience nature on your doorstep and appreciate its diversity. It brings together nature fans and specialists, connects the dots between conservation areas and the urban habitats shaped by the people who live there, and builds a bridge between the simple enjoyment of nature and a scientific look at the current state of species.
The activities in 2020 all focus on the state of nature in Hamburg's parks and green areas, the possibilities we have for ecological upgrading, and the ways in which Hamburg's conservation areas can be used for environmentally friendly rest and relaxation.
"Parks and green areas are not only important places for city dwellers to spend their free time and relax; they are also habitats for flora and fauna. In the past, these urban habitats often played only a secondary role in attempts to record biodiversity. In the 2020 season, we want to minimize this research gap at a few select places and, as part of the GEO Tag der Natur, develop a species inventory," said Dr. Martin Kubiak, researcher in the field of animal biodiversity and nature protection as well as the CeNak project leader of the StadtNatur event. CeNak's partner institution is the Ministry of Environment and Energy with its large-scale "Naturally Hamburg" project.
Thanks to almost 450 members of the Hamburg public who helped record the city's species at over 30 different locations such as the Neßsand nature reserve, the Duvenstedter Brook, and the planned nature reserve in Diekbek in the north of Hamburg, the June 2019 inventory was a resounding success. Together with species experts, CeNak scientists were able to prove the existence of over 1,400 animal and plant species in the metropolitan region.
Find out more at Aktionswochenende StadtNatur.
 Questions?
Dr. Martin Kubiak
Department of Animal Diversity (with a focus on nature protection): Martin.Kubiak"AT"uni-hamburg.de
(Martin.Kubiak"AT"uni-hamburg.de)www.cenak.uni-hamburg.de
---