This page:UHH > Center of Natural History > Current Issues > News > Society for Biological Systematics' annual conference
Prominent Guest Speakers to Feature at the Society for Biological Systematics (GfBS)
21 January 2020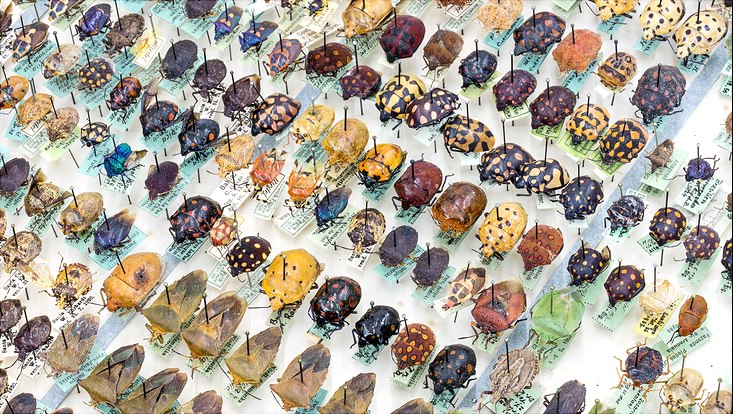 Photo: UHH/CeNak, Mentz
Internationally renowned researchers will provide a glimpse into their fields of research at the GfBS annual conference at CeNak.
For the first time, the Center of Natural History (CeNak) at Universität Hamburg is issuing invitations to the Society for Biological Systematics' (GfBS) annual conference, to be held in the Zoological Museum. From 12 to 15 February 2020, scientists will discuss current topics in biodiversity. Open lectures, in English, by internationally renowned guest speakers Stuart Pimm, Madelaine Böhme, and Christoph Bleidorn will present the most recent findings from research into species extinction, the evolution of humankind, and the phylogeny of annelids for discussion.
Prof. Dr. Christoph Bleidorn—"The evolution of annelids" on 13 February, 8:30–9:30 am, in the CeNak large lecture hall.

Christoph Bleidorn, from the University of Göttingen, specializes in the reconstruction of evolutionary linkages with the help of genetic data and is an expert on ringed worms (Annelida). The phylogeny of Annelida was unclear for a long time and difficult to reconstruct. Now, however, we have a very clear picture. In addition to pure evolutionary linkages, further groups of small animal have been included into the Annelid phylum over the years, making it clear that this is a very diverse and evolutionarily dynamic group.

Prof. Dr. Stuart Pimm—"Modern extinctions and what we need to know—and do—to prevent them" on 13 Feburary, 6:30 pm–7:30 pm, in the CeNak large lecture hall.
What is causing the current process of species extinction? What do we need to know, and what do we need to do to prevent species from disappearing? Stuart Pimm, from Duke University in North Carolina, USA, will explore these questions in his English-language lecture. He is one of the best-known experts in the field of global biodiversity.

Prof. Dr. Madelaine Böhme—"Danuvius guggenmos i and the positional behavior of the last common ancestor of great apes and humans" on 14 February, 8:30–9:30 am, in the CeNak large lecture hall.
Madeleine Böhme researches paleoclimatology at the University of Tübingen. She came to prominence through her discovery (in the Allgäu, Bavaria) and description of the remains of a humanoid ape, Danuvius guggenmosi, which is estimated to be over 11 million years old and appeared to have been bipedal. As it had been assumed previously that bipedalism first began with African hominids, the Allgäu Danuvius forced a change in thinking on the evolution of humankind.
With around 500 members, the GfBS fosters the goal of researching biodiversity and strengthening systematics, taxonomy, evolution, and phylogenetics. The society also supports the development of early career researchers in their education and continuing education. It also seeks to foster further discussion within and across disciplines by publishing its own journal and holding an annual conference. A further goal is to strengthen the cooperation between universities, museums of natural history, and research institutions.
To attend the guest lectures, register before 30 January 2020 at cenak@uni-hamburg.de( cenak"AT"uni-hamburg.de)
Contact:
Prof. Dr. Andreas Schmidt-Rhaesa
Head of the Department of Invertebrates
Center of Natural History (CeNak) at Universität Hamburg
Martin-Luther-King-Platz 3