This page:UHH > Center of Natural History > Current Issues > News > Zoological Museum
Viruses Gone Wild? A New Installation at the Zoological Museum Sheds Light
20 July 2020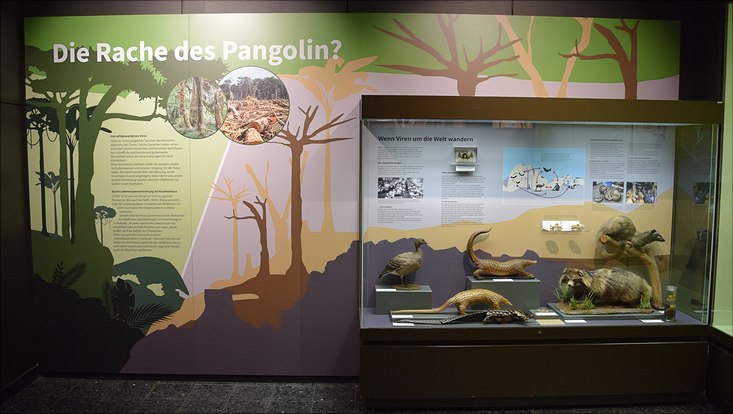 Photo: UHH/CeNak
At a completely new section at the Zoological Museum, a newly designed display case provides information about zoonoses—infectious diseases that can be transmitted from animals to humans. What role do wild animals play in the transmission of viruses? Thanks to the current pandemic, this is a question that is once again keeping researchers busy. Matthias Glaubrecht, director of the Center for Natural History (CeNak), curated the new installation and sees a direct connection between zoonoses and our relationship to nature.
Wearing masks, washing hands, distancing—our daily lives regularly remind us that we are living in the midst of a pandemic. COVID-19 is not the first viral plague to spread to humans from animals. A new section at the Zoological Museum illuminates zoonoses and explains the role wild animals play in the transmission of such diseases. The newly designed display case focuses on the Spanish flu, showing how roughly 500 million people became infected with the influenza virus at the dawn of the twentieth century and the role that chickens and ducks played. (Find more information on the Spanish Flu.)
The wild goose in the exhibit is not alone in the new display case: it is joined by other preserved animal specimens that researchers say can also transmit diseases to humans— for example, pangolins and bats, who have been linked to the currently spreading SARS-CoV-2 virus. CeNak's director Matthias Glaubrecht curated the new exhibit with the aim of clarifying how our destruction of animal habitats and our treatment of wild animals have contributed to the spread of these zoonoses. According to Glaubrecht, "The true problem is humans—because more and more of us have come into contact with wild animals, and we trade them all over the world." Zoonoses, he says, emerge especially in those places where land is increasingly subject to clearing and agriculture as well as mining and road construction. (Find more information on zoonoses.)
The new zoonoses exhibit is located next to the display case with the ancient horses and adjacent to the whale exhibit. Our museum staff will be happy to help you find your way.